There Is No Free Lunch but Diversification Provides a Cheap One
If you have been paying attention to markets this year, you might have noticed that U.S. large (S&P 500 Index) and small (Russell 2000 Index) stocks are beating all other markets with returns of 10.6% and 11.5%, respectively, as of 9/30/18. Would it perhaps be advantageous to just invest in one or both of those asset classes? Sure, it would be a simple stock portfolio. However, below we illustrate six reasons why we recommend more broadly diversifying your stock investments.
1. Every year there are asset classes that seem boring or unessential.
As shown in Exhibit 1, the asset classes are ranked by return from best (top) to worst (bottom) each year, and it is easy to see that the order of returns is unpredictable as the rank of each stock asset class varies from year to year. Investing in ALL asset classes is a prudent, time-tested approach we refer to as being globally diversified. Many investors might be scoffing at the negative international small cap and emerging markets stock returns this year, but few remember that international small cap and emerging markets stocks were up 34% and 37% in 2017 (orange and green squares). Accessing different types of stock returns can provide a smoother ride over the long run and can help keep investors from experiencing the full pain of inevitable market corrections.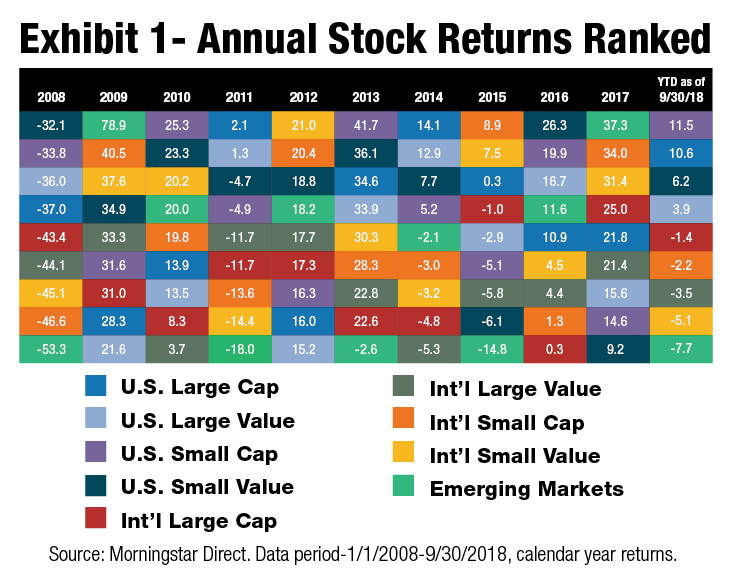 2. Putting all your eggs in one basket is not prudent.
Evidence has shown it is a much wiser choice to invest your money in a globally diversified stock portfolio that can provide exposure to nearly 17,000 companies across 75 countries versus a portfolio of only 500 companies in one country, such as the S&P 500 Index. Furthermore, the U.S. produces about 24% of the world's GDP today. In other words, the rest of the world cannot be ignored!
3. There is always the possibility of another Lost Decade (for U.S. stocks).
World-leading returns in the U.S. stock market make it easy to forget why a diversified portfolio makes sense. From 2000-2009, U.S. stocks (S&P 500) fell 1.0% per year on average. However, during that same time period a globally diversified stock index portfolio had an average return of 3.6% per year.
4. Long-term evidence illustrates that certain risk premiums exist, including those for value and small stocks.
Yet, the only way to capture those premiums is to remain invested through the ebbs and flows of those asset class cycles. Exhibits 2 and 3 illustrate that the periods when value (orange) and small (yellow) beat large cap stocks (blue) can come in single year increments or multi-year runs – all very unpredictable. Value in particular has been frustrating investors since 2017, but staying invested is the only way to capture the premium when it comes back in favor.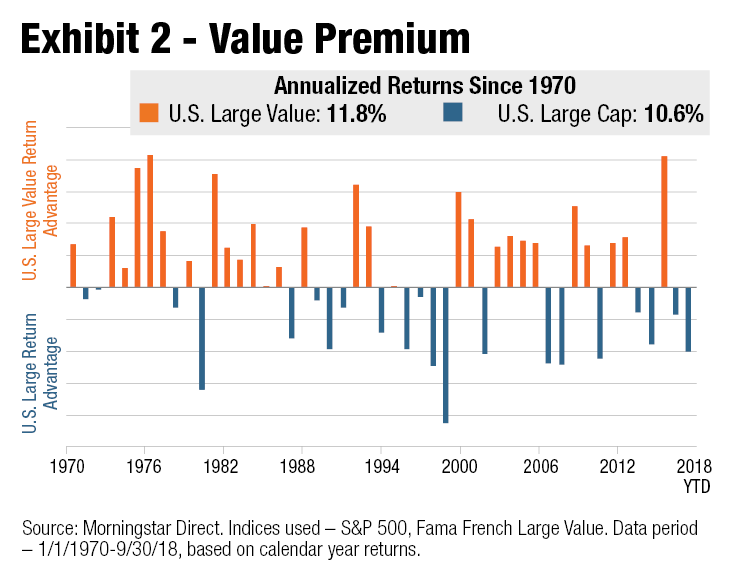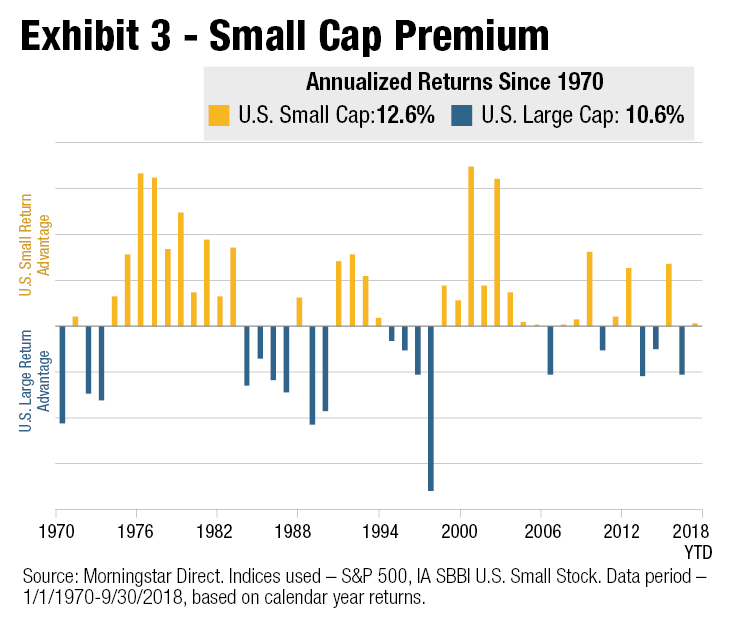 5. Daily, monthly, and even annual returns can be noisy.
The high volatility of shorter-term returns can create substantial uncertainty about whether future realized premiums will be positive. For example, often the value or small premium will be negative in shorter time periods of one-, three-, or five-years (sometimes even for a 10-year period). Data from Fama and French1, however, illustrates that negative premiums are less likely for periods of 10 years and longer. Furthermore, when the value premium is positive, it tends to exist in greater magnitude than when growth stocks do better. This results in long-term premiums for value that are positive and large. All in all, investors should not act on noisy evidence in the short term.
6. We believe diversified stock portfolios have a better chance of outperforming the S&P 500 Index over long-term periods.
Exhibit 4 illustrates that a diversified stock index portfolio historically has a cumulative advantage compared to the S&P 500 Index. However, there can be long stretches where one strategy outpaces the other. Examples of this were the periods 2000-2006 when diversified portfolios led and more recently from 2011-2017 when the S&P 500 led.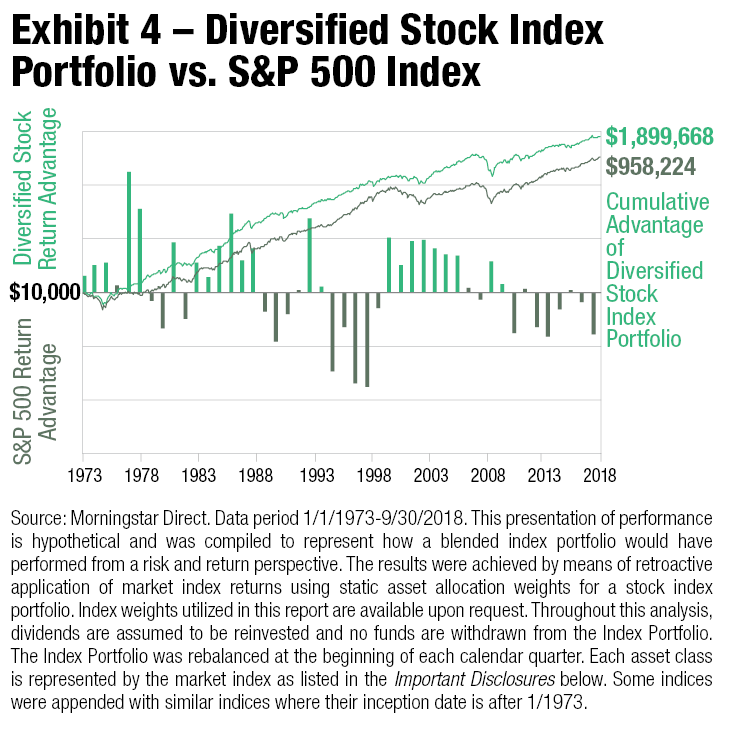 Summary
The basic premise is that diversification helps to mitigate risk – when one area of the market zigs, another area zags. As a reward for holding a larger group of stock asset classes, the portfolio's value can grow to exceed that of one invested in just one asset class, such as the S&P 500, if disciplined investing is present. By diversifying, you will likely never be at the very top or bottom in any given day, month, or year. Instead, diversification adds value slowly and steadily over the long term.
---
1 Fama, Eugene F. and Kenneth R. French, "Volatility Lessons", Financial Analysts Journal, Third Quarter 2018
Important Disclosures: Savant Capital Management is a Registered Investment Advisor. This information is not intended as personalized investment advice. The index returns herein assume reinvestment of all dividends and interest and do not reflect fees or expenses. Please remember that past performance is not indicative of future results. Different types of investments involve varying degrees of risk, and there can be no assurance that the future performance of any specific investment, investment strategy, or product (including the investments and/or investment strategies recommended or undertaken by Savant Capital Management), or any non-investment related content, made reference to directly or indirectly in this article will be profitable, equal any corresponding indicated historical performance level(s), be suitable for your portfolio or individual situation, or prove successful. Due to various factors, including changing market conditions and/or applicable laws, the content may no longer be reflective of current opinions or positions. Moreover, you should not assume that any discussion or information contained in this article serves as the receipt of, or as a substitute for, personalized investment advice from Savant Capital Management. To the extent that a reader has any questions regarding the applicability of any specific issue discussed above to their individual situation, they are encouraged to consult with the professional advisor of their choosing. Please Note: "Ideal" is not intended to give assurance as to achieving successful results. Savant Capital Management is neither a law firm nor a certified public accounting firm and no portion of the article content should be construed as legal or accounting advice. Market return data from Morningstar Direct. Indices used: World Stock-MSCI ACWI IMI Index, U.S. Large Cap-S&P 500 Index, U.S. Large Value-MSCI U.S. Prime Market Value Index, U.S. Small Cap-Russell 2000 Index, U.S. Small Value-MSCI U.S. Small Value Index, Int'l Large-MSCI EAFE Index, Int'l Large Value-MSCI EAFE Value Index, Int'l Small-S&P EPAC Small Index, Int'l Small Value-S&P EPAC Small Value Index, Emerging Mkts-MSCI Emerging Markets Index, TIPS-ICE BofAML U.S. Treasury Inflation-Linked Securities Index, Short Bonds-BBgBarc U.S. Govt/Credit 1-3 Yr Index, Interm Bonds- BBgBarc U.S. Aggregate Bond Index, Int'l Bonds-JPM GBI Global Ex US Hdg Index, Global REITs-S&P Global REIT Index, Commodities-Bloomberg Commodity Index, Managed Futures-Credit Suisse Mgd Futures Liquid Index, Reinsurance-Swiss Re Global Cat Bond Index. Some indices have been appended prior to their inception date with similar indices in order to construct a full data set for time period.