Earth Day is not only a perennial marker to school children that summer break is almost here, but it is also a reminder of our personal responsibility to leave the world a better place than we found it. With Earth Day 2021 in the rear-view mirror, now is an opportune time for a lesson on ESG.
What is ESG Investing?
Synonymous with sustainable investing, ESG is a form of investing that takes key Environmental, Social, and Governance metrics into consideration during the portfolio construction process. Through an understanding of these data points and engagement with companies held in the portfolio, investors can support corporations applying best practices from an environmental, social, and governance standpoint. At the same time, a portfolio screened for ESG characteristics often withdraws support from organizations taking serious missteps in these areas.
Like any novel or qualitative topic, ESG has many different definitions depending on who you ask. Different data providers and asset managers have their own idea of what is "right" and what key metrics best measure their approach. In Exhibit 1, MSCI lays out a broad classification of what issues should be considered under each branch of an ESG mandate.
Exhibit 1

Source: MSCI
Is Performance Affected?
Many investors like the idea of going green and supporting positive initiatives. But almost always, it is closely followed by one question, "What about my green?" In the early days of ESG investing it was believed that incorporating ESG metrics into your portfolio would materially detract from performance. Increasingly, evidence demonstrates that with ESG investing, you can have your cake and eat it too – or perhaps have green in your portfolio and your wallet too.
Exhibit 2 below showcases an almost 20-year period in which a portfolio of U.S. ESG-screened stocks generated similar risk and return as a broad U.S. stock index. At times an ESG portfolio may slightly outperform or marginally underperform a non-screened portfolio, but historically the ESG index illustrated above has experienced remarkably similar results.
Exhibit 2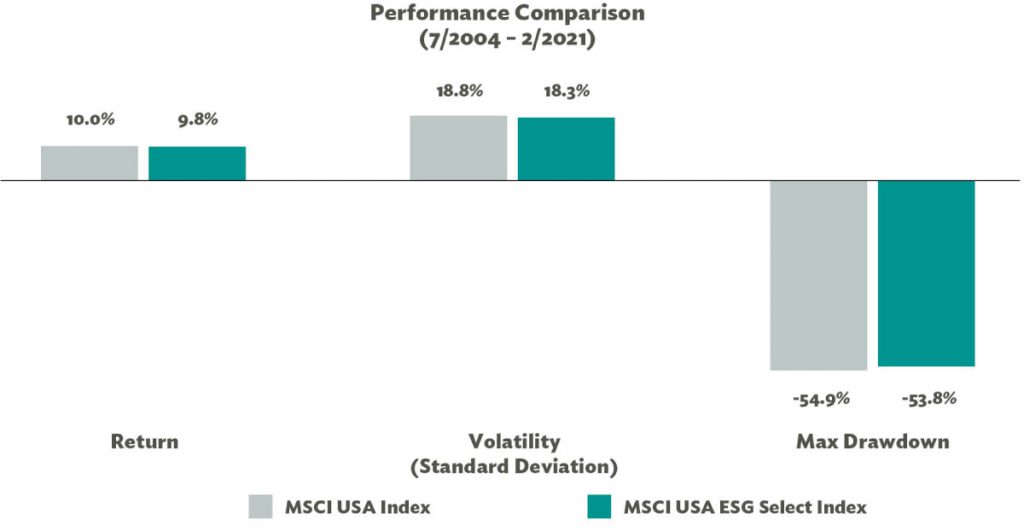 Source: Morningstar Direct. Data as of 2/28/2021. Max Drawdown is the maximum cumulative decline (peak to trough) in return percentage during the period illustrated. Return and volatility are annualized.
We believe that by focusing on key environmental, social, and governance metrics, investors can potentially construct an ESG portfolio that allows them to invest in accordance with their personal philosophies of corporate responsibility without sacrificing the return necessary to power their financial plan. Reach out to your financial advisor for more information about incorporating ESG-screened investments into your portfolio.
---
ESG Investing Limitations: The number of socially responsible funds are substantially few when compared to those that do not maintain such a mandate. Additionally, each fund's social policy may cause it to make or avoid investments for social reasons when it is otherwise disadvantageous to do so. Please discuss with your financial advisor if this approach is appropriate for your unique situation.