Diversification: The Strategic Play
If you have been paying attention to markets this year, you have likely noticed that U.S. large stocks (S&P 500 Index) are up 20.6% as of 9/30/19. Would it perhaps be advantageous to just invest in the S&P 500 for your retirement?
The quick answer is no. Here's why: Exhibit 1 illustrates the last 20 years with the experience of investing in an S&P 500 portfolio versus a diversified index portfolio of 60% stocks and 40% bonds. In the far right column, we also highlight a likely thought process of a diversified investor along the way.
Exhibit 1 – S&P 500 Versus Diversified Index Portfolio Historical Returns
Data and content source: Morningstar Direct; iShares Student of the Markets. Returns are cumulative. Full period return is from 1/1/2000-9/30/2019. Hypothetical Diversified Portfolio: 33.6% U.S. large cap stocks (S&P 500 Index), 8.4% U.S. small cap stocks (Russell 2000 Index), 18.0% international stocks (MSCI ACWI ex USA IMI Index), 40% bonds (BBgBarc U.S. Aggregate Bond Index). Volatility represented by standard deviation is a measure of risk.
Long-Term Investors, There's More to the Story than the S&P 500
The result is that the diversified portfolio has earned essentially the same return as the S&P 500 since the start of 2000, but with HALF the volatility. For an investor, this means the bumps in the road are less extreme and therefore less stressful. Owning a diversified portfolio can be emotionally difficult for investors: you trail the S&P 500 in a bull market, and you still lose money in a bear market. But in the end, we believe diversification wins even when it feels like it's losing because the investor ends up with the similar wealth while experiencing reduced volatility when compared to the S&P 500.
Many view the S&P 500 as "the market" without taking risk into consideration. Risk is an extremely important part of the equation when building an appropriate portfolio given an investor's asset size, risk tolerance, time horizon, and various other factors. Most risk-based portfolios will have some bonds and alternative assets to provide returns from sources other than stocks.
Exhibit 2 illustrates how unpredictable the performance of asset classes can be from year to year. The chart ranks the asset classes from best (top) to worst (bottom) return each year. Diversification across many asset classes helps take the guesswork out of investing so returns can be captured wherever they occur.
Exhibit 2 – Annual Asset Class Returns – Ranked from Best to Worst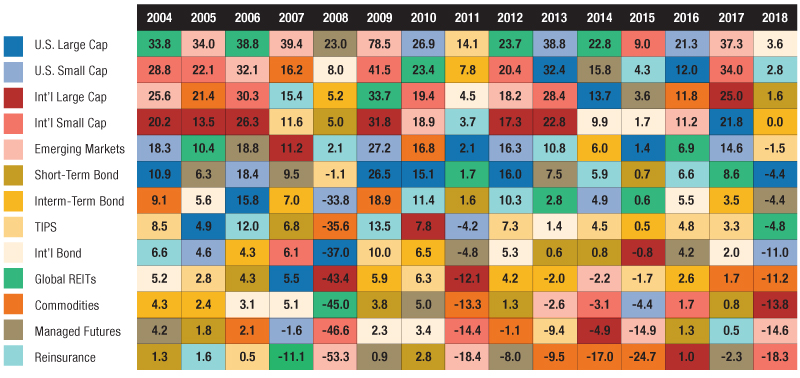 As of 12/31/2018. Data Source: Morningstar Direct. Indices used: US Large Cap – S&P 500, US Small Cap – Russell 2000 TR USD, Int'l Large Cap – MSCI EAFE NR USD, Int'l Small Cap – S&P EPAC Small TR USD,Emerging Markets – MSCI EM NR USD, Global REITS – S&P Global REIT TR USD, Short-Term Bond – Barclays US Govt/Credit 1-3 Yr TR USD, Interm-Term Bond – Barclays US Agg Bond TR USD, TIPS – BofAML US Trsy Infl Linked TR USD, Foreign Bond – JPM GBI Global Ex US TR Hdg USD, Commodities – Bloomberg Commodity TR USD, Managed Futures – Credit Suisse Mgd Futures Liquid TR USD, Reinsurance – SwissRe Cat Bond TR USD.
Should You Build a Diversified Portfolio?
The long-term evidence for building diversified portfolios is solid. When Savant builds diversified portfolios, we take it even further than the earlier simple example in Exhibit 2 by including exposure to 17 asset classes containing more than 40,000 securities across 75 countries.
The following are a few of the tenets we believe are essential to understanding the long-term investment strategy we employ here at Savant:
Every year there are asset classes that seem boring or unessential. Investing in ALL asset classes is a prudent, time-tested approach we refer to as being globally diversified.
Putting all your eggs in one basket is not prudent. Evidence has shown it is a much wiser choice to invest your money in a globally diversified portfolio that can provide exposure to thousands of securities across many countries versus a portfolio of only 500 stocks in one country, such as the S&P 500 Index. The U.S. produces about 24% of the world's GDP today. In other words, the rest of the world cannot be ignored!
There is always the possibility of another Lost Decade for U.S. stocks. World-leading returns in the U.S. stock market make it easy to forget why a diversified portfolio makes sense. From 2000 to 2009, U.S. stocks (S&P 500) fell 1.0% per year on average. Today, U.S. stocks are overvalued relative to long-term averages, but international stocks are mostly undervalued relative to long-term averages.
Long-term evidence illustrates that certain risk premiums exist, including those for value and small stocks. Therefore, we believe it is important to maintain a bias toward these. Yet, the only way to capture those premiums is to remain invested through the ebbs and flows of those asset class cycles, which can come in single year increments or multi-year runs – all very unpredictable.
Daily, monthly, and even annual returns can be noisy. The high volatility of shorter-term returns can create substantial uncertainty about whether future returns will be positive. It's important to focus on longer time periods as the longer you are invested, the chances of positive returns grows substantially.
Savant Capital Management is a Registered Investment Advisor. Savant's marketing material should not be construed by any existing or prospective client as a guarantee that they will experience a certain level of results if they engage the advisor's services. Past performance may not be indicative of future results. Therefore, it should not be assumed that future performance of any specific investment or investment strategy (including the investments and/or investment strategies recommended and/or undertaken by Savant Capital Management ("Savant"), or any non-investment related content, will be profitable, equal any corresponding indicated historical performance level(s), be suitable for your portfolio or individual situation, or prove successful. Historical performance results for investment indices, benchmarks, and/or categories have been provided for general informational/comparison purposes only, and generally do not reflect the deduction of transaction and/or custodial charges, the deduction of an investment management fee, nor the impact of taxes, the incurrence of which would have the effect of decreasing historical performance results.