2018 Mid-Year Update: Volatile Returns
So far, 2018 has been a year of ups and downs. Financial markets started the year off at a blistering pace with the S&P 500 and global stocks (MSCI All Country World Index) up 5.7% and 5.4%, respectively, in the month of January. However, in February we experienced the largest market correction in two years as the S&P 500 dropped 10.1% from its market highs. Since then, markets have struggled to regain the momentum shown towards the end of 2016 and all of 2017 as fears of trade wars and tariffs hampered returns. U.S. small cap is the top asset class year-to-date, while managed futures and most value stocks are struggling in negative territory. Despite markets not finding themselves far from where they started the year, there still remains optimism for the U.S. economy which is firing on all cylinders.
The first quarter U.S. Gross Domestic Product (GDP) growth figure came in at 2.0%, reflecting increases in business investment, consumer spending, exports, government spending, and inventory investment. GDP growth is commonly used as an indicator of the economic health of a country. A positive figure indicates the overall economy is expanding and producing more goods as a whole. Furthermore, the unemployment rate continues to fall to levels not seen in nearly two decades. As of the end of June, the civilian unemployment rate sat at 4.0%.
The lackluster market returns during the first half of the year overshadowed the strength of corporate earnings. First quarter corporate earnings in the U.S. were a home run! Of the 499 S&P 500 companies that reported as of 6/28/18, 83% beat or met estimates in the first quarter. Also, the growth rate of corporate earnings (measured by the percentage change in operating earnings per share) for the S&P 500 increased 26.3% on a year-over-year basis. The earnings season provided signs that U.S. companies are accelerating their capital expenditure plans following the recent package of tax cuts.
U.S. inflation (CPI) has begun to pick up recently as strengthening world economies have increased demand for goods and services. CPI ticked up slightly, rounding to a 2.4% gain over last year's data. The Federal Reserve appears to welcome a modest overshoot of its 2% inflation target, given years of shortfall.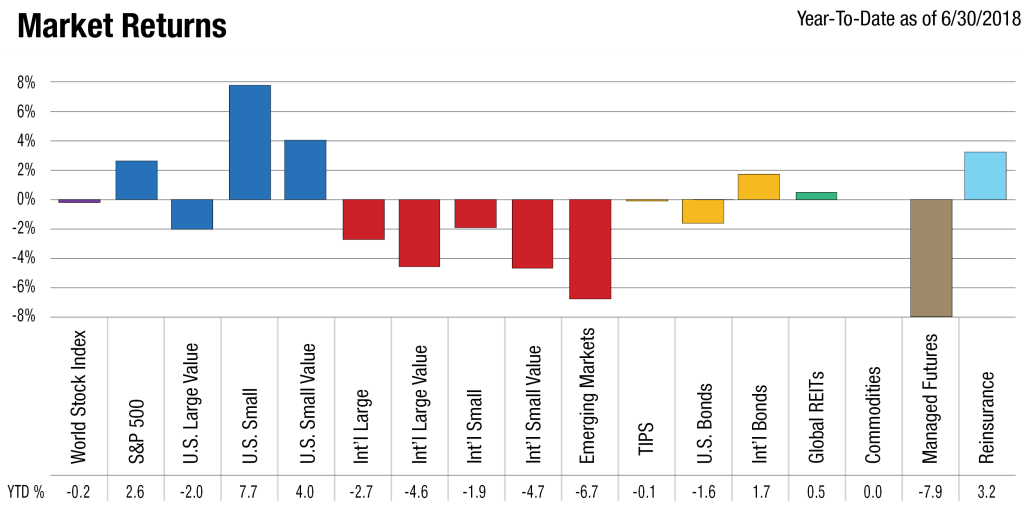 Overall the U.S. economy continues to churn away as we go through the ninth year of expansion since the Great Recession, while the broader global economy appears to be providing a supportive backdrop for the U.S.
Source: Morningstar Data. See endnote for indices used.
What's up with Value Stocks?
When constructing a globally diversified portfolio, it is important to consider different styles of investments that provide benefits to an investor. By doing so, an investor has the ability to gain access to different types of companies across the world. One of the most common investment styles focuses on value stocks. Value stocks are companies that are inexpensive relative to other stocks when the company's fundamentals (earnings, dividends, profitability, etc.) are considered. Large value stocks tend to come in the form of mature companies with a stable dividend issuance (e.g. Walmart and JPMorgan Chase) and have historically returned a premium to their counterparts, growth stocks (see Historical Value Premium table below).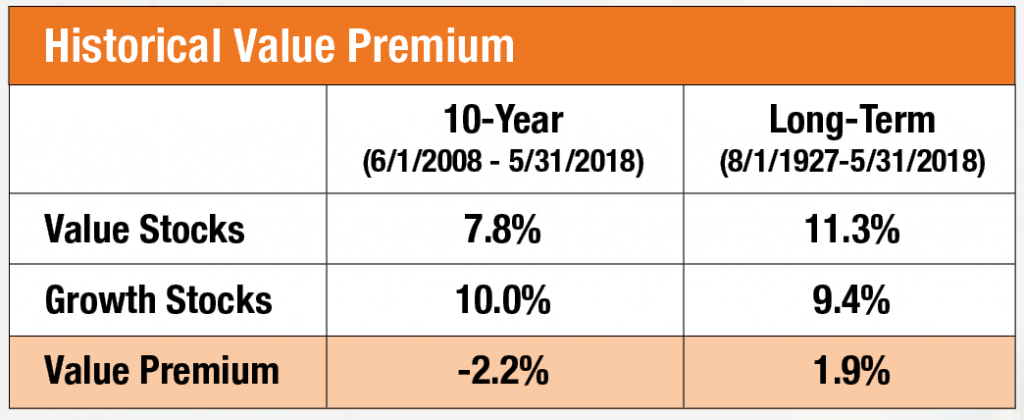 Source: Morningstar Direct. Fama-French Large Value and Large Growth indices used for data in table. Past performance does not guarantee future results.
However, over the past ten years, value stocks have underperformed relative to growth stocks. The annual average difference in returns between value and growth stocks was -2.2% (source: Fama-French 6/1/2008 – 5/31/2018). It begs the question: Does the value premium still exist?
Investors aware of market history understand that this type of underperformance has happened before. Although the value premium has been quite large and persistent over the long term, it has also been volatile. The value premium, defined as the excess return of value stocks over growth stocks, has been positive 61% of the years going back to 1928. In other words, value stocks have outperformed in 55 out of 90 years (source: Fama-French Large Value Premium). Looking at the same data over rolling (monthly) 10-year timeframes, it has been positive 72% of the time. Periods of value stocks underperforming growth stocks are to be expected; however, an investor does not know when or how long the underperformance may continue. Attempting to time the market through buying and selling could cause an investor to miss out during times of outperformance by value stocks.
Using historical data can be helpful when analyzing information about what has happened in the past and trying to find explanations for why premiums exist. However, past performance does not tell us everything about what might come in the future. For this, Savant calculates proprietary forward-looking asset class return estimates which use current fundamental data, such as valuations, to form our expectations about future asset class returns. Academic research, as well as our own, has illustrated a relationship between current fundamentals and long-term returns.
The table below shows 20-year forward-looking return estimates by asset class, comparing value vs. growth/core in the U.S. and international stock segments.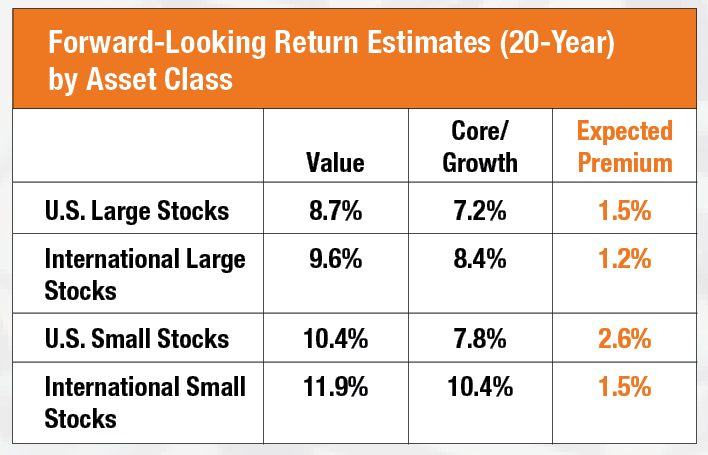 Source: Forward-looking return estimates based on Savant's 20-year proprietary methodology. Actual performance may differ from estimates. Read Savant's whitepaper on forward-looking returns.
We still believe allocating to both growth and value with a slight tilt towards value stocks can potentially be beneficial for investors going forward. Investors who are diversified globally and remain disciplined through market volatility have the greatest chance of success in benefitting from the value premium.
---
Endnotes
Market return data from Morningstar Direct. Indices used: World Stock-MSCI ACWI IMI Index, U.S. Large Cap-S&P 500 Index, U.S. Large Value-MSCI U.S. Prime Market Value Index, U.S. Small Cap-Russell 2000 Index, U.S. Small Value-MSCI U.S. Small Value Index, Int'l Large-MSCI EAFE Index, Int'l Large Value-MSCI EAFE Value Index, Int'l Small-S&P EPAC Small Index, Int'l Small Value-S&P EPAC Small Value Index, Emerging Mkts-MSCI Emerging Markets Index, TIPS-ICE BofAML U.S. Treasury Inflation-Linked Securities Index, Short Bonds-BBgBarc U.S. Govt/Credit 1-3 Yr Index, Interm Bonds-BBgBarc U.S. Aggregate Bond Index, Int'l Bonds-JPM GBI Global Ex US Hdg Index, Global REITs-S&P Global REIT Index, Commodities-Bloomberg Commodity Index, Managed Futures-Credit Suisse Mgd Futures Liquid Index, Reinsurance-Swiss Re Global Cat Bond Index. Some indices have been appended prior to their inception date with similar indices in order to construct a full data set for time period.
Savant Capital Management is a Registered Investment Advisor. This information is not intended as personalized investment advice. The index returns herein assume reinvestment of all dividends and interest and do not reflect fees or expenses. Index portfolios reflected in this publication are not representative of any actual client returns. Savant's marketing material should not be construed by any existing or prospective client as a guarantee that they will experience a certain level of results if they engage the advisor's services and includes lists or rankings published by magazines and other sources which are generally based exclusively on information prepared and submitted by Savant. Please Note: "Ideal" is not intended to give assurance as to achieving successful results.
Please remember that past performance is not indicative of future results. Different types of investments involve varying degrees of risk, and there can be no assurance that the future performance of any specific investment, investment strategy, or product (including the investments and/or investment strategies recommended or undertaken by Savant Capital Management), or any non-investment related content, made reference to directly or indirectly in this newsletter will be profitable, equal any corresponding indicated historical performance level(s), be suitable for your portfolio or individual situation, or prove successful.