2018: A Rough Transition for Investors
Investors entered 2018 with calm markets and bullish sentiment. As the year played out, the markets became increasingly volatile, the S&P 500 experienced two 10%+ corrections, and investor sentiment changed to bearish. After nine comfortable years of low volatility and rising markets, 2018 reminded investors that corrections are a normal part of investing.
2018 Performance Heat Map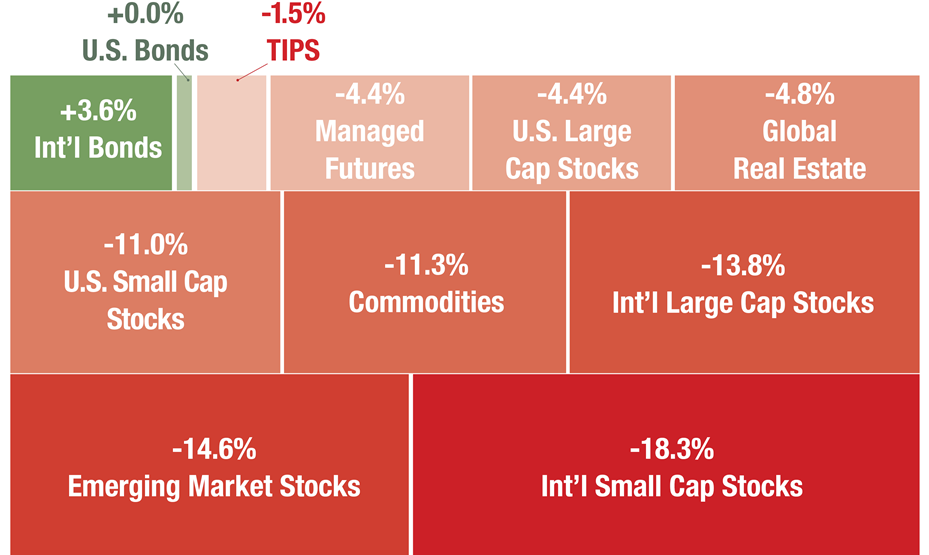 Source: Morningstar Direct. See indices listed in disclosures.
Economic Themes
Interest Rates
Current range: 2.25-2.50%
Fed indicating between 0-2 rate hikes in 2019
Inflation
"Core" consumer prices (excluding food and energy) rose 2.2% year-over-year
Employment
Extremely low unemployment rate (3.9% as of December 2018)
Continued its path downward since 2010
Tight labor market
Economic Growth
U.S. economy grew by an estimated 2.9% annually, as measured by real GDP
Housing
Moderation in existing home sales and housing starts
Rates for 30-year mortgages climbed from about 4% to 4.5%
Crude Oil / Gas
Boost in supply from the U.S., up 29.5% since 2015
Price of a barrel of West Texas Intermediate (WTI) oil: $45.15 (as of December 2018)
Corporate Earnings
Corporate tax cut and deregulation boosted earnings in 2018
EPS (earnings per share) growth for the S&P 500 was 23.9% in 2018
Global Trade
Tariffs imposed doubled from previous year
China trade war uncertainty
USMCA trade agreement to replace NAFTA if it is ratified
U.S. Dollar
Trade weighted value (the U.S. dollar vs. other major currencies) rose about 5% in 2018
U.S. Federal Budget
Increasing deficit: 3.8% of GDP
Rising debt: 77.9% of GDP
Sources: St. Louis Federal Reserve, S&P Global, JP Morgan, Wells Fargo, Merk Research, DFA, Charles Schwab, bankrate.com
Why Diversify?
U.S. stocks entered 2018 continuing a nine-year bull run, steadily outpacing non-U.S. stocks over the last several years. This has led investors to the question: "Why invest outside of the U.S.?"
Here are just a few reminders why international stocks still make sense for the long-term.
U.S. stocks don't always outperform! Recall the "lost decade" (2000-2009) when the S&P 500 endured its worst 10-year performance.

Including global stocks opens up opportunities for a different return set.
Investing outside of U.S. large cap stocks provides diversification!
Not investing in international stocks would result in excluding nearly half of the global market capitalization.

Why Ride Out Diversification?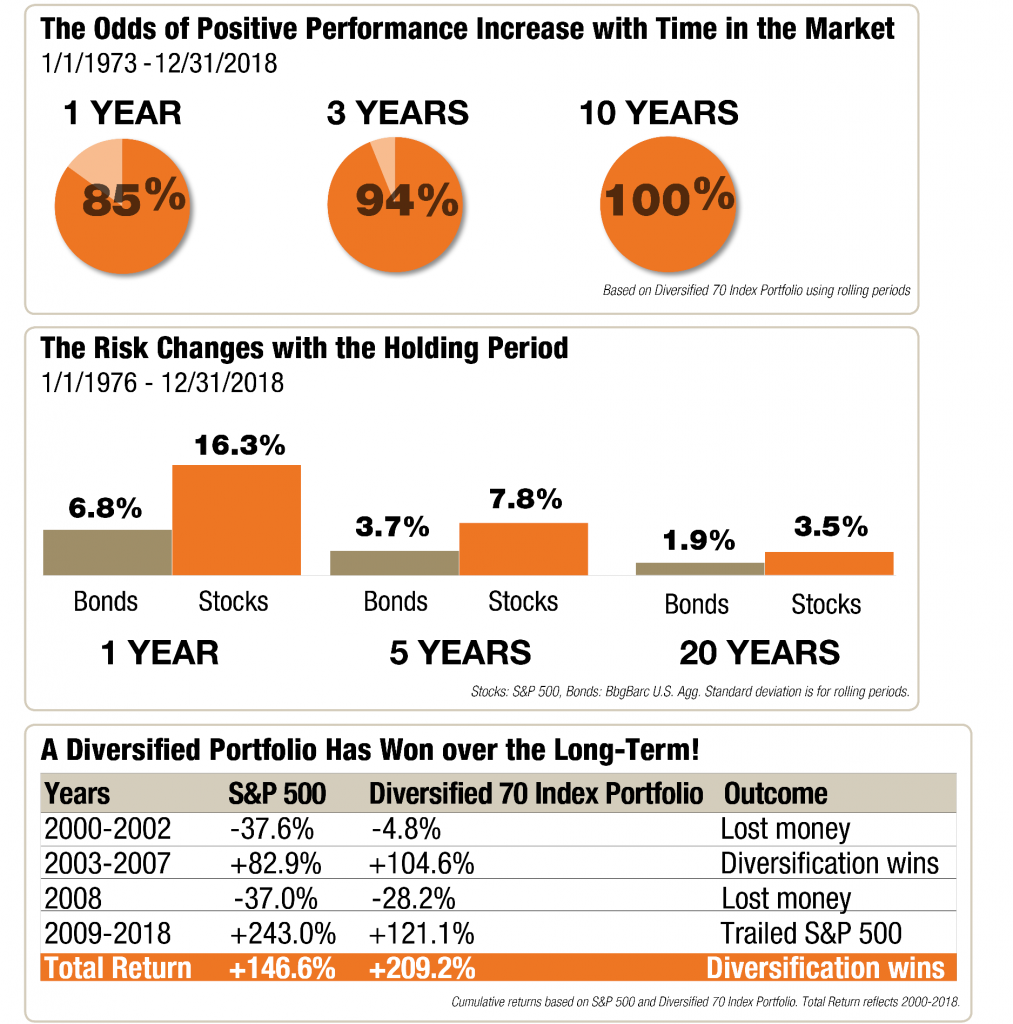 ---
This presentation of performance is hypothetical and was compiled to represent how a blended index portfolio would have performed from a risk and return perspective. The results were achieved by means of retroactive application of market index returns using static asset allocation weights for a diversified index portfolio. Index weights utilized in this report are available upon request. Throughout this analysis, dividends are assumed to be reinvested and no funds are withdrawn from the Index Portfolio. The Index Portfolio was rebalanced at the beginning of each calendar quarter. Each asset class is represented by the market index as listed below. Some indices were appended with similar indices where their inception date is after 1/1973.
Market return data from Morningstar Direct. Indices used (unless otherwise indicated): World Stock-MSCI ACWI IMI Index, U.S. Large Cap-S&P 500 Index, U.S. Large Value-MSCI U.S. Prime Market Value Index, U.S. Small Cap-Russell 2000 Index, U.S. Small Value-MSCI U.S. Small Value Index, Int'l Large-MSCI EAFE Index, Int'l Large Value-MSCI EAFE Value Index, Int'l Small-S&P EPAC Small Index, Int'l Small Value-S&P EPAC Small Value Index, Emerging Mkts-MSCI Emerging Markets Index, TIPS-ICE BofAML U.S. Treasury Inflation-Linked Securities Index, Short Bonds-BBgBarc U.S. Govt/Credit 1-3 Yr Index, Interm Bonds-BBgBarc U.S. Aggregate Bond Index, Int'l Bonds-JPM GBI Global Ex US Hdg Index, Global REITs-S&P Global REIT Index, Commodities-Bloomberg Commodity Index, Managed Futures-Credit Suisse Mgd Futures Liquid Index, Reinsurance-Swiss Re Global Cat Bond Index. Some indices have been appended prior to their inception date with similar indices in order to construct a full data set for time period.
Savant Capital Management is a Registered Investment Advisor. This information is not intended as personalized investment advice. The index returns herein assume reinvestment of all dividends and interest and do not reflect fees or expenses. Index portfolios reflected in this publication are not representative of any actual client returns. Savant's marketing material should not be construed by any existing or prospective client as a guarantee that they will experience a certain level of results if they engage the advisor's services. Please remember that past performance is not indicative of future results. Different types of investments involve varying degrees of risk, and there can be no assurance that the future performance of any specific investment, investment strategy, or product (including the investments and/or investment strategies recommended or undertaken by Savant Capital Management), or any non-investment related content, made reference to directly or indirectly in this handout will be profitable, equal any corresponding indicated historical performance level(s), be suitable for your portfolio or individual situation, or prove successful.